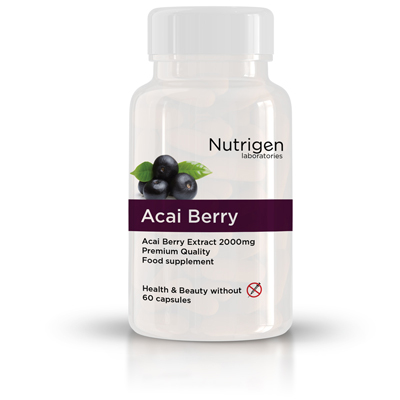 Why Use Acai Berry Extract?
The acai berry is a rich purple palm fruit indigenous to the Amazon rainforest. For hundreds of years, these small dark berries have been integral to the diet of native Amazon people. As a purple fruit, acai berries naturally contain the purple pigments known as anthocyanins. Acai berries are highly nutritious with a unique flavour and texture.
KEY BENEFITS
One of the most nutritious foods in the world
A powerful source of antioxidants to combat premature ageing
Helps promote cardiovascular and digestive health
Promotes weight loss
Rainforest grown
How does Acai work?
Acai is called a superfood for many reasons. The berry naturally contains huge amounts of Antioxidants, Vitamin B1, B2, B3, Vitamin E, Vitamin C, Phosphorus, Calcium, Potassium, Fibre, Proteins, as well as good fatty acids.
The incredible levels of antioxidants in Acai help you feel younger. Research has also shown that antioxidants can help regulate cholesterol levels in your body.
Acai has two essential fatty acids known as Omega 6 (Linoleic acid) and Omega 9 (Oleic acid). Research shows that Omega 6 helps lower LDL, which is the cholesterol that harms your body, while Omega 9 fatty acids lower LDL and maintain HDL (good cholesterol) levels. Acai's high levels of antioxidants also play a factor in maintenance of vascular cardiac system, which is important for better blood circulation.
The dark purplish colour of the berry is due to the polyphenolic compounds present in the berry. One of the main compounds being researched is called anthocyanin. Anthocyanins are a group of Flavonoids widely distributed in plants and that give a reddish or purplish colour to fruits such as blackberries, grapes, and raspberries. The more research that is done on anthocyanins, the more benefits are found.
Why take Acai?
Weight Loss: The Acai berry helps increase the body's metabolism rate and helps you get rid of extra pounds by burning fat, thanks to its high content in fatty acids Omega-3 and Omega-6, which are not produced by the body. Moreover, the Acai berry has the ability to control appetite thanks to its high fibre content, which satiates hunger. It also helps in the proper movement of food in the digestive tract. This actually helps eliminate excess food in the body, instead of converting it to fat.
Inflammation: Anthocyanins help neutralize enzymes that destroy connective tissue. Their antioxidant capacity prevents free radicals from damaging connective tissues and may help repair damaged proteins in the blood-vessel walls.
Nervous System: By preventing tyrosine nitration, the Anthocyanin properties in Acai may help protect against neurological diseases. The primary Anthocyanins in Acai known as Cyanidin-3-glucoside have been found to contribute to the reversal of age related neurological deficits.
Arteriosclerosis: Anthocyanins ability to counter oxidants make them a powerhouse in the fight against arteriosclerosis. Even in small amounts, Anthocyanins effectively guard against LDL oxidation. Anthocyanins protect the integrity of the endothelial cells that line blood vessel walls and help to maintain micro capillary integrity.
Diabetes: One of the serious diabetic complications is retinopathy, which in most cases can cause blindness. This condition occurs when the body attempts to repair leaking, damaged capillaries, but does so by producing to many abnormal proteins. The protection of Anthocyanins may help prevent these capillaries from leaking and assist in the prevention of abnormal protein proliferation.
Eye Health: The Acai berry's anthocyanins may also help improve eyesight by numerous mechanisms. A recent Japanese study found that people taking 50mg of anthocyanins adapted better to the dark and had less eye fatigue than those in the placebo group.
Supplement facts
Serving size: 2 capsules, Servings per container: 30
| | |
| --- | --- |
| Amount per serving | Mg. |
| Aoji Berry Extract 200mg (5:1) | 2000mg |
Other ingrediences: Magnesium Stearate, Maltodextrin
Directions:

As a dietary supplement take 2 capsules per day with water.
Warning: Keep out of reach of children. If you are pregnant, nursing or have a medical condition, consult your doctor before taking this product. Do not exceed recommended serving size. Discontinue use and consult doctor, if any adverse reaction occur. Store in dry place. Food supplements are not intended to diagnose, treat, cure or prevent any disease. Food supplements must not be used as a substitute for varied and balanced diet.