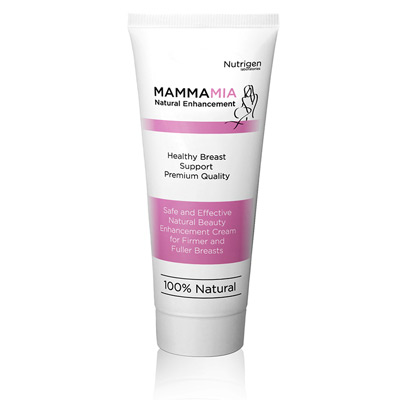 Why Use Breast Cream MammaMia?
MammaMia breast cream is designed specially for breast enlargement and daily breast care. It contains Pueraria Mirifica Extract with aid from cold pressed oils and skin enhancing supplements. The perfect choice for women who want to increase their breasts size. Daily use for 2-3 months will show stunning results with what phytoestrogens can do for you.
Pueraria Mirifica: Designed for superior breast health support & daily breast care
KEY BENEFITS
Breast Health Support
Breast Care
Reduces Scars with Daily Use
Anti-Ageing Properties
Anti-Breast Cancer Properties
› What is Pueraria Mirifica?
Pueraria Mirifica, also known as Kwao Krua, is a root found in northern and north eastern Thailand and Myanmar. In Thailand, the plant "Kwao Krua" is considered to be a rejuvenating adaptogenic herb and has a history of use in folk medicine. Although the name "Kwao Krua" had been applied to several species of plants having tuberous roots, it was definitively identified as Pueraria Mirifica in 1952 from which an unusual estrogenic phenol miroestrol was isolated. There are two kinds of Kwao Krua roots, namely white and red. The White Kwao Krua is the herb used by females and the Red Kwao Krua is the herb used by males. White Kwao Krua has a high concentration of phytoestrogens, while Red Kwao Krua is used by males and has aldosterone, which is a natural hormone.
› What does Pueraria Mirifica do?
Pueraria Mirifica not only improves the nutritional support the woman's body but speeds up the process of enhancing the breasts and has the ability to maintain increased breast size permanently. A perfect choice for menopausal issues. It also improves nutritional support for breast care and the firmness of the breast and cleavage. Pueraria Mirifica is a real "multifunctional" plant which works perfectly when taken correctly. Your body will feel younger, energic and looks healthier. Your skin will be beautiful, in top condition, full of nutrients and feel smooth and elastic.
MammaMia Breast Cream Also Contains:
Evening Primrose Oil: May be more familiar as a gamma linoleic acid oral supplement. However, it is also a useful oil in creams with its excellent moisturising qualities. It is best used for dry, ageing skin.
Jojoba Oil: It is light-textured and deeply penetrating, making it a valuable oil for all skin types. The chemical composition of jojoba closely resembles sebum, the skin's natural lubricant. This gives jojoba oil exceptional moisturising and emollient properties.
Shea Butter: Protects and regenerates the skin. High in Vitamin A, E and F. It provides skin with all the essential elements it needs for good balance, elasticity and tone and can be used on all skin types. The chemical composition of shea butter is close to vernix, the substance found on newborns at birth. Its excellent for the prevention and treatment of stretch marks and other kinds of scar tissue. Shea Butter has a high concentration of nonsaponifiable fatty acids, which promote cellular growth, helping to restore damaged skin.
Sea Buckthorn Seed Extract - a beneficial in reducing the incidence of breast cancer.
Sichuan dome extract - an extract of the Chinese plant ChuangXiong Rhizome. The main effects include improved blood flow, which enables better breast nourishing and growth. It has also anti-breast cancer properties.
Ginseng - a natural stimulator - contains a number of active ingredients, including healthy phytoestrogens that contribute to breast growth. Ginseng is also anti-breast cancer properties.
Chinese Angelica (Dong Quai) - will further increase the effects of treatment of breast augmentation. This herb helps to balance the hormone levels in the body.
Papaya extract - contains enzymes that stimulate the female hormone estrogen and prolactin also contributing to the development of breast.
Collagen, Hyaluronic Acid, Vitamin C - contributes to creating a stronger and more healthy skin.
Product facts
Main Ingredients
Pueraria Mirifica
Evening Primrose Oil
Jojoba Oil
Shea Butter
ea Buckthorn Seed Extract
Sichuan dome extract
Ginseng
Dong Quai
Papaya extract
Collagen, Hyaluronic Acid, Vitamin C
Directions:
Gently massage onto the skin of your breast. For best results use at least twice a day.
WARNING: Do not use if you are pregnant, lactating or intend to
become pregnant. For external use only. Avoid contact with eyes, if
contact occurs flush thoroughly for several minutes & contact a
healthcare professional if irritation persists. Use intended for adults
18 years of age and older. Keep out of the reach of children. Consult with your
physician before using this product. Store in a cool, dry place.
Discontinue use if rash or irritation occurs.