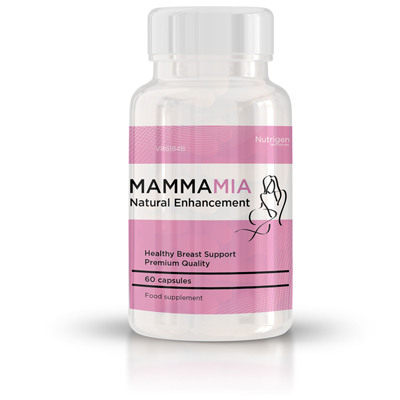 Why Use Breast Pills MammaMia?
If you want to look better breast shape and size- this product is for you. Breast enlargement pills are made from 100% natural ingredients and provide comprehensive care for your breasts. Pills for breast enlargement with extracts from several plants: specifically designed to increase breast volume and daily breast care.
KEY BENEFITS
uplifts, firms and enlarges breasts
daily use will contribute to the reduction of scars and stretch marks
prevents premature skin aging and wrinkles
restores damaged skin
Breasts are probably the most feminine part of a woman's body. It is the part that we most probably realize, if we feel, that we are not the right size or shape. Our breast enlargement pills can provide a solution - a natural enlargement and firming.
Implants are not a realistic option for most women, and in fact even do not look and not worn at all naturally
Why Mamma Mia? Mamma - the Latin word for breast. Mia - my. Free translation - my breasts.
› How do breast enlargement pills work?
Tablets containing extracts from plants which are known to have effects similar to estrogen. It is a female hormone that causes the growth of breasts during adolescence and pregnancy. Extracts of plants are called phyto-oestrogens - plant hormones. Their effects are to also improve blood circulation in the breast area, thus promoting a healthier development of breasts.
Natural extracts improve the supply of nutrients in a woman's body and speed up enlargement of the breasts. They have the ability to maintain long-term breast increased volume. Encourage better nutrition breasts and improve their strength.
Plants used have many beneficial effects on the female body. Your body will look younger, you will have more energy and you'll feel better. The skin will look young and be smooth and elastic.
Breast enlargement pills are designed to increase the volume of the breast firming and raising. The product is intended for daytime use. Daily use for 2-3 months yielded very impressive results.
› Patients responses to treatment:
Breast augmentation 82.35%
Breast firming 88.23%
Healthier menstruation 29.41%
Healthier hair 88.23%
Faster skin recovery 94.11%
Breast aches 94.11%
› What are the key ingredients in MammaMia pills?
Fenugreek - plant contains a substance which is used to make synthetic estrogen. According to research, it has a beneficial effect on the growth of breast cells and increases the volume of the breast. It has a high concentration of active ingredients.
Fennel – right after Fenugreek it has the highest content of active estrogenic substances. Even in traditional medicine is used for breast enlargement as a home remedy to support the production of breast milk.
Wild yam - in traditional medicine, it is often used to improve the overall health of the breast.
Kelp - algae rich in minerals, fiber, antioxidants and vitamins. It contains phytoestrogens and miroestrol Deoxymiroestrol.
Damiana – an Indian plant with high fytocontent that stimulate breast tissue. In traditional medicine, the extract is also used to increase libido - the plant is used as an aphrodisiac.
Motherwort - another known plant that is used in traditional medicine for breast enlargement. The plant itself is used to improve the function of reproductive tissue.
Dong quai - the root of the Asian plant, which balances and stabilizes the hormone levels in the female body. It enhances the effect of other extracts in the mixture.
L-tyrosine - improves the function of glands and ensures smooth production of hormones in the female body.
Hops - improves and stimulates the development of mammary glands. It contains flavonoids that affect the production of hormones in the female body, thereby enhancing the effect of extracts in pills.
Red clover - excellent source of phytoestrogens, such as genistein. Genistein binds to estrogen receptors that control the growth of the breast.
Saw palmetto - popular plant for breast augmentation. It's called. Anti - androgen, and in traditional medicine it is also used to stop reducing mammary glands. It is also used as an aphrodisiac. Saw palmetto contains large amounts of phyto nutrients that activate the growth of breast tissue.
Oat straw - this plant comprises a number of flavonoids, saponins, minerals, and alkaloids. All these substances contribute to the harmonization of hormones in the female body.
Blessed Thistle - used in traditional medicine to increase the production in lactating mammary glands of women. Beneficial effects on breast enlargement, since it acts as a positive offset to the hormone levels in women.
Supplement facts
Serving size: 1 capsule, Servings per container: 60
| | |
| --- | --- |
| Amount per serving | Mg./Caps. |
| Fenugreek (4:1) Extract 300mg | 75 |
| Fennel Seed (Foeniculum Vulgare) Herb | 59 |
| Wild Yam Herb | 36 |
| Kelp Powder | 33 |
| Damiana Aphrodisia Herb | 20 |
| Motherwort Herb | 19 |
| Dong Quai Herb | 19 |
| L - Tyrosine | 16 |
| Hops | 10 |
| Red Clover Extract (38:1) 342mg | 9 |
| Saw Palmetto 45% (20:1) 70mg | 3.5 |
| Oat Straw (10:1) 17mg | 1.7 |
| Holy Thistle Extract (10:1) 16mg | 1.6 |
Other ingrediences: Microcrystalline Cellulose, Magnesium Stearate
Directions:
As a dietary supplement take 1 capsule per day with water.
Warning: Keep out of reach of children. Do not use if you are pregnant, breast-feeding or intend to become pregnant. Only for external use. If you have a medical condition, consult your doctor before taking this product. Do not exceed recommended serving size. Discontinue use and consult doctor, if any adverse reaction occur. Store in dry place. Food supplements are not intended to diagnose, treat, cure or prevent any disease. Food supplements must not be used as a substitute for varied and balanced diet. Not intended for people under 18 years of age.