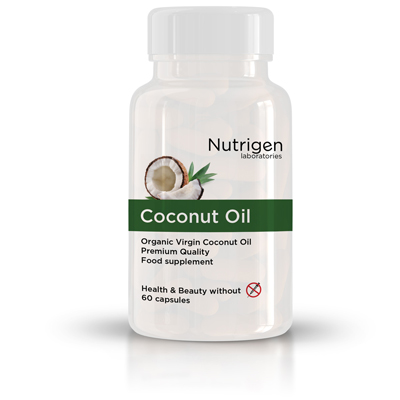 Why Use Coconut Oil Pills?
Coconut oil is an unique fatty acid source with a number of beneficial effects on the body. It is an excellent source of energy during the day, which is not stored as fat and body will use it – coconut oil is an excellent supplement for anyone who wants to lose weight healthily. Coconut oil also promotes healthy skin appearance, improves the quality of hair and maintain a healthy heart and brain.
KEY BENEFITS
provides fast available energy source
promote heart and brain health
help maintain healthy looking skin
and much more ...
Coconut Oil Capsules have the following advantages:
Easily portable and consumable
Dosages can be easily managed, since each has a fixed quantity and nutritional value.
Coconut oil soft gel capsules relieve you from the taste and odor of other drugs.
Cost of Coconut Oil Capsules
In places where coconuts are scarcely available, coconut oil capsules can be a good and cheap alternative to actually buying and eating a costly coconut. However, opting for them is certainly not a wise decision in certain coastal areas and islands in Asia and the Indian subcontinent, where fresh coconuts and pure coconut oil are available in plentiful amounts. In that case, they will cost you more.
Health benefits of coconut oil
Coconut Oil Contains a Unique Combination of Fatty Acids With Powerful Medicinal Properties
Coconut oil contains a lot of medium chain triglycerides, which are metabolized differently and can have therapeutic effects on several brain disorders.
Populations That Eat a LOT of Coconut Are Among The Healthiest People on The Planet
Plenty of populations around the world have thrived for multiple generations eating massive amounts of coconut. The medium chain triglycerides in coconut oil have been shown to increase 24 hour energy expenditure by as much as 5%, potentially leading to significant weight loss over the long term.
The Lauric Acid in Coconut Oil Can Kill Bacteria, Viruses and Fungi, Helping to Stave Off Infections
The fatty acids and breakdown products in coconut oil can kill harmful pathogens, potentially helping to prevent infections.
Coconut Oil Can Kill Your Hunger, Making You Eat Less Without Even Trying
The fatty acids in coconut oil can significantly reduce appetite, which may positively affect body weight over the long term.
The Fatty Acids in Coconut Oil Are Turned into Ketones, Which Can Reduce Seizures
The MCTs in coconut oil can increase blood concentration of ketone bodies, which can help reduce seizures in epileptic children.
Coconut Oil Can Improve Blood Cholesterol Levels and May Lower Your Risk of Heart Disease
Studies in both humans and rats show that coconut oil improves important risk factors like Total, LDL and HDL cholesterol, which may translate to a reduced risk of heart disease.
Coconut Oil Can Protect Hair Against Damage, Moisturize Skin and Function as Sunscreen
Coconut oil can be applied topically as well, studies showing it to be effective as a skin moisturizer and protecting against hair damage. It can also be used as a mild form of sunscreen and as mouthwash.
The Fatty Acids in Coconut Oil Can Boost Brain Function in Alzheimer's Patients
Studies show that the fatty acids in coconut oil can increase blood levels of ketone bodies, supplying energy for the brain cells of Alzheimer's patients and relieving symptoms.
Coconut Oil Can Help You Lose Fat, Especially The Dangerous Fat in Your Abdominal Cavity
Coconut oil appears to be especially effective in reducing abdominal fat, which lodges in the abdominal cavity and around organs. This is the most dangerous fat of all and is highly associated with many Western diseases.
Supplement facts
Serving size: 1 capsule, Servings per container: 60
| | |
| --- | --- |
| Amount per serving | Mg./Caps. |
| Organic Virgin Coconut Oil | 1000mg |
Other ingrediences: Gelatin, Glyceride, Titanium Dioxide, Purified Water
Directions:

As a dietary supplement take 1 capsule per day with water.
Warning: Keep out of reach of children. If you are pregnant, nursing or have a medical condition, consult your doctor before taking this product. Do not exceed recommended serving size. Discontinue use and consult doctor, if any adverse reaction occur. Store in dry place. Food supplements are not intended to diagnose, treat, cure or prevent any disease. Food supplements must not be used as a substitute for varied and balanced diet.