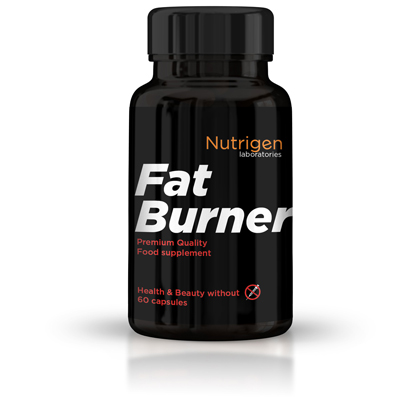 Why Use Extreme Fat Burner?
Fat Burner is effective thermogenic formula that works with the body's fat burning process to promote higher metabolism and fat utilization. Energizing combination of ingredients will supply power to manage the training and daily duties. When combined with exercise and proper nutrition programs, fat burner supports the ability to lose weight and get the body prepared!
KEY BENEFITS
creates thermogenesis
utilizes fat as an energy source
blocks the absorption of carbohydrates
provides energy without feeling jittery
promotes weight loss
protects muscles
reduces appetite
This supreme fat burner is created based on one of the most popular thermogenic mixes, with a few modifications. Instead of ephedrine was ranked Citrus aurantium, which is a chemically milder relative of ephedrine. Moreover, caffeine was added, as studies have shown that caffeine can work in synergy with nutrients of synephrine type, thereby enhancing the supporting effect on the metabolism.
Together, this dynamic mix can significantly improve thermogenesis, accelerate calorie expenditures, enhance fat metabolism and inhibits appetite. It contains a fat-Acetyl-L-carnitine - a very active ingredient, which prevents the body to store fat and helps the body to burn calories.
Supplement facts
Serving size: 1-2 capsules, Servings per container: 30
| | |
| --- | --- |
| Amount per serving | Mg./Caps. |
| | |
| --- | --- |
| Caffeine | 100 |
| Acetyl-l-carnitine | 50 |
| Citrus Aurantium | 250 |
| Guarana Extract (22% Caffeine) (4:1) 50mg | 200 |
| Green Tea Extract (95% Polyphenols 45%EGCG) | 25 |
Other ingrediences: Titanium Dioxide, Allura red, Magnesium Stearate, Silica
Directions:

As a dietary supplement take 1-2 capsules per day with water.
Warning: Keep out of reach of children. If you have a medical condition, consult your doctor before taking this product. Do not exceed recommended serving size. Discontinue use and consult doctor, if any adverse reaction occur. Store in dry place. Food supplements are not intended to diagnose, treat, cure or prevent any disease. Food supplements must not be used as a substitute for varied and balanced diet.