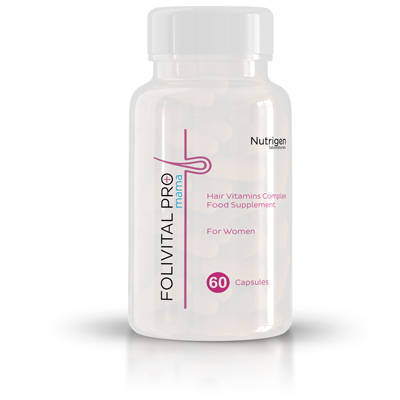 Why use FOLIVITAL PRO MAMA hair loss vitamins?
FOLIVITAL PRO MAMA, is carefully selected blend of essential vitamins and minerals, specifically created to help women experiencing hair loss during pregnancy and after pregnancy. FOLIVITAL PRO MAMA hair loss vitamins for women gives body the essential nutrients in safe amounts, to stop hair loss and grow healthy, thicker and shinier hair.
KEY BENEFITS
Combats hair loss during and after pregnancy
Safe ingredient amounts for pregnant women and breastfeeding women.
Women hair loss during and after pregnancy is nothing uncommon. Studies show that more than 80% of pregnant or breast feeding women experience hair loss to some extent. Pregnancy Hair loss can occur for a variety of reasons. One of them is poor nutrition.
During pregnancy, your nutritional needs change to accommodate your growing baby. Many pregnant women experience also anemia because their need for iron to help their growing blood supply outpaces their consumption. Inadequate intake of iron can lead to hair loss. In addition, not eating enough protein can cause hair loss, as can insufficient intake of some vitamins and minerals.
› What are the key ingredients in FOLIVITAL PRO MAMA hair vitamins?
Iron
Women who are pregnant, may be especially prone to iron deficiency. about 1 in 5 women of childbearing age and about 50% of all pregnant women develop iron deficiency- anemia. Iron deficiency hair loss is caused when the body lacks enough iron to produce hemoglobin in the blood. Hemoglobin is the ingredient that carries oxygen for the growth and repair of all body cells including the cells that make up hair follicles.
Vitamin C
Low intake of vitamin C in your diet may result in dry or splitting hair during pregnancy. Although hair loss during pregnancy isn't directly associated with a vitamin C deficiency, dry and splitting hair from a vitamin C deficiency may make your hair prone to hair loss and other hair-related conditions.
Zinc
Zinc is an important chemical essential for human functioning. Zinc nutrition deficiency is insufficient availability of zinc in the diet or can be caused due to the malabsorption of zinc by the body. This condition is prevalent in young children, pregnant women, breast feeding mothers, and the elderly.
Hair loss and skin lesions: Zinc is important for normal cell growth. Zinc nutrition deficiency weakens the cells, which can result in hair loss in case of cells on the scalp and lesions on the skin. This is one of the prominent signs of zinc deficiency.
Vitamin E
Vitamin E is essential to good blood circulation. Good circulation to the scalp feeds the hair follicles and keeps them healthy.
Vitamin B5
Our body needs vitamin B-5 to metabolize the carbs, protein and fat you eat, and in turn, convert this food into usable energy and nourishment for all of your cells. Without this vitamin, your hair follicles will not get the nutrients they need to function properly. Over time, this can lead to a malnourishment of your follicles and result in reduced hair growth and even loss.
Vitamin D3
Telogen effluvium is the loss of hair due to excessive shedding – about 100 to 200 hairs per day. Among the possible causes of TE include vitamin D deficiency, notes a 2011 paper published in "Clinical, Cosmetic Investigative Dermatology. "One study published in "Skin Pharmacology and Physiology" in 2013 examined the relationship between serum levels of vitamin D and ferritin – a protein found in cells that allow them to store iron – and TE and female-pattern hair loss, in 80 females. The study concluded that low ferritin and vitamin D levels were associated with hair loss. The study suggested supplementation as a possible treatment course.
Folic Acid
Folic acid is most needed when a woman is pregnant as it aids in the prevention of birth defects that can potentially harm the baby's spine and brain.
Folic acid, also known as folate, when not present in sufficient amounts results in several conditions, one of which is poor hair growth. A study conducted at the University of Guelph (Canada) saw that hair loss can be treated through incorporating more folic acid in the diet with results being evident in a short period of time. The vitamin helps renew the cells that help with the growth of healthy hair
Biotin
Body breaks biotin down more quickly during pregnancy, which can cause a deficiency for many pregnant women. In fact, between one-third and one-half of all pregnant women experience a decline in biotin. Biotin deficiency most likely occurs during late pregnancy. Taking biotin during pregnancy can help prevent that situation and is usually safe.
Vitamin B12
A lack of vitamin B12 is a common factor in women's hair loss. It is an important nutrient in the growth and strength of hair.
Calcium
While 99 percent of the calcium in your body is located in your teeth and bones, a portion of it can be found in the cells of your hair follicles. The calcium in your hair helps to stimulate communication between cells, thereby promoting hair growth and healthy follicles. This mineral also keeps your heart, muscles, nerves and various other systems functioning, and all of these processes play a vital role in healthy hair growth.
Supplement facts
Serving size: 1 capsule, Servings per container: 60
| | |
| --- | --- |
| Amount per serving | Mg./Caps. |
| Calcium | 100mg |
| Iron | 25mg |
| Vitamín C | 50mg |
| Zinc | 12mg |
| Vitamin E | 10IU |
| Vitamin B5 | 6mg |
| Vitamin D3 | 200IU |
| Folic Acid | 400mcg |
| Biotin | 30mcg |
| Vitamin B12 | 2.6mcg |
Other ingrediences: Silicon Dioxide, Magnesium Stearate, Cellulose capsule
Directions:
As a dietary supplement take 1 capsule per day with water.
Warning:Keep out of reach of children. Do not exceed recommended serving size. Discontinue use and consult doctor, if any adverse reaction occur. Store in dry place. Food supplements are not intended to diagnose, treat, cure or prevent any disease. Food supplements must not be used as a substitute for varied and balanced diet.
Other Websites: