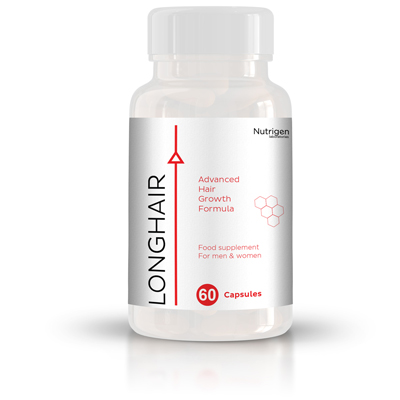 Why Use hair growth pills LongHair?
100% Natural Formula including necessary vitamins for hair growth, minerals for hair strength, and amino acids for long hair growth faster. Longhair hair vitamin pills contain vitamins, helping to eliminate shedding and breakage.If you're serious about faster growing hair and the healthy hair growth, Longhair hair vitamins are the smart choice.
KEY BENEFITS
Give your hair the nutrients they need to stay strong and grow fast
Prevent your hair from shedding and breakage.
Why You Should Try LongHair pills?
Longhair hair vitamins are the most essential hair growth vitamins available for faster growing hair. Longhair's formula provides essential vitamins,minerals, essential oils and amino acids in the proper balance and strength necessary to nourish hair for faster hair growth and healthy hair. Longhair hair vitamins are the best hair growth vitamins made for fast hair growth. You've dreamed about longer, healthier, shiny vibrant hair and now is the time to make that dream come true. Rescue your hair and start your hair journey with Longhair hair vitamins today!
› What are the key ingredients in LongHair?
Longhair Hair Vitamins are formulated to fill in the gaps left by your regular diet and provide your body with the nutrition it needs to grow healthy hair from the inside out.
Exclusive complexprovides the hair with:
Strengthening amino acids in Marine Collagen and MSM for vitality.
Vitamins A and C provides antioxidant protection that helps promote healthy hair and scalp.
Niacin helps promote blood circulation to the scalp.
Pantothenic Acid strengthens and nourishes the hair follicle.
Vitamin B12 helps promote the transportation of oxygen to the scalp and follicles.
Biotin promotes the growth of existing hair, produces keratin, and works to increase hair's elasticity.
Frequent questions
Are there side effects associated with Longhair capsules?
Longhair is a drug free dietary supplement that contains some ingredients of natural origins. However, Longhair is not recommended for those with an allergy to fish or shellfish, or for women who are pregnant or breastfeeding. If you have known intolerances or allergies, please review the ingredients in Longhair prior to taking the supplements.
Do Longhair capsules interfere with medication?
It is always advisable to consult your doctor before taking any dietary supplement.
Are Longhair capsules suitable for everyone?
Longhair dietary supplements are suitable for both men and women over the age of 18, of all hair types. Longhair is not suitable for children under 18; those with an allergy to fish or shellfish; or women who may be pregnant or breastfeeding. It is always advisable to consult your doctor before taking any dietary supplement.
Why is marine collagen best for hair growth?
Based on scientific discovery - in the 1980's, a professor from Scandinavia discovered that the Inuits' great hair and skin was the result of their fish- and protein-rich diet.
Supplement facts
Serving size: 2 capsules, Servings per container: 30
Amount per serving
Mg./Caps.
Vitamin C (ascorbic acid 97%)
400mg
MSM
200mg
Vitamin B5 (d-calcium-panthonate 90.1%)
100mg
Collagen (marine) Providing Essential Amino Acids:
Glycine, Proline, Isoleucine, Leucine,
Lysine, Methionine, Phenylalanine,
Thereonine, Valine
80mg
Vitamin B1 (thiamine hydrochloride 89%)
5mg
Vitamin B3 (niacin)
5mg
Vitamin A (vitamin A acetate)
815IU
Biotin (pure)
2500mcg
Folic Acid (min. 97%)
200mcg
Vitamin B12 (pure)
20mcg
Other ingrediences: Brown Rice Flour, Silicon Dioxide, Magnesium Stearate (Veg. Source).
Directions:
As a dietary supplement take 2 capsules per day with water.
Warning: Keep out of reach of children. If you are pregnant, nursing or have a medical condition, consult your doctor before taking this product. Do not exceed recommended serving size. Discontinue use and consult doctor, if any adverse reaction occur. Store in dry place. Food supplements are not intended to diagnose, treat, cure or prevent any disease. Food supplements must not be used as a substitute for varied and balanced diet. Suitable for vegetarians.