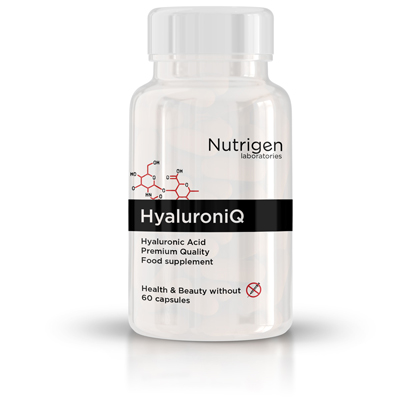 Why Use Hyaluronic Acid Pills HyaluroniQ?
Hyaluronic acid helps maintain a healthy, hydrated and youthful looking skin. Skin with sufficient supplies of hyaluronic acid is elastic and less prone to wrinkle creation.
KEY BENEFITS
Combats sagging skin, fine lines, wrinkles
Improoves dry skin – makes it moistured
Improoves hair quality, combats dull, brittle hair
What is hyaluronic acid?
Hyaluronic acid fills the spaces between cells by water retention and protects cells as well. Skin that is hydrated looks healthy and youth.
Hyaluronic acid is a fluid that exists in every living organism. The main function of hyaluronic acid is the maintenance of whole body hydrated and lubricated. The largest concentrations of this substance are found in the skin and joints. It is a complex molecule that the body formed into a sphere which is resistant to compression.
How does hyaluronic acid work?
As you get older, the molecules of hyaluronic acid in the body lose the ability to maintain shape and this leads to a relaxation of wrinkles and pain and stiffness of the joints. Hyaluronic acid is a part of glycosaminoglycan cells and provide strength joints. Research has shown that hyaluronic acid is able to retain more water than any other natural substance. Excellent moisturizing properties provides significant wrinkle smoothing and tissue elasticity.
Supplement facts
Serving size: 1 capsule, Servings per container: 60
| | |
| --- | --- |
| Amount per serving | Mg./Caps. |
| Hyaluronic Acid | 50mg |
Other ingrediences: Titanium Dioxide, Maltodextrin
Directions:

As a dietary supplement take 1 capsule per day with water.
Warning: Keep out of reach of children. If you are pregnant, nursing or have a medical condition, consult your doctor before taking this product. Do not exceed recommended serving size. Discontinue use and consult doctor, if any adverse reaction occur. Store in dry place. Food supplements are not intended to diagnose, treat, cure or prevent any disease. Food supplements must not be used as a substitute for varied and balanced diet.