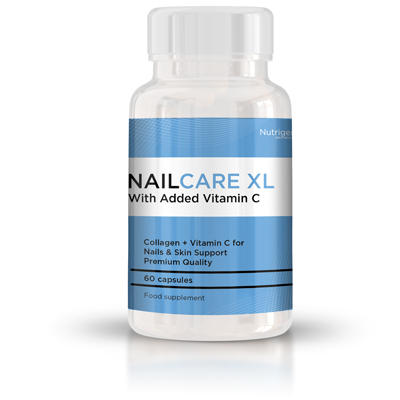 Why Use NailCareXL pills?
Everyday life can put a lot of strain on your nails. Exposure to everything from sunlight to cleaning products can bring a lot of damage to our nails. NailCareXL capsules for stronger nails, can help your body fight back and give your nails all the nutrients they crave.
KEY BENEFITS
Give your nails the nutrients they need to stay strong, thick and healthy
Contains Marine chondroitin and collagen, suitable for vegetarians
Why You Should Try NailCareXL pills?
These are all natural components of healthy nails, but can be depleted by poor diet, hormones, stress, and even the natural ageing process. NailCareXL capsules for healthy nails will supply your body with these key elements for strong, thick and healthy looking nails.
› What are the key ingredients in NailCareXL?
Silica
MSM
Vitamin C
Marine Chondroitin
Marine Collagen
What is Silica?
Silica brings nutrients to nails, making sure that the nail beds have sufficient minerals for nail growth and vitality. Silica is known as a beautifying mineral and there are also many health benefits associated with it. It not only causes the strengthening of connective tissues and bones, but is also useful in taking care of nails, hair and skin. Silica helps give shine and strength to both hair and nails.10 This is due, in large part, to the fact that silica is found naturally in both hair and nails. In fact, silica deficiency has been shown to lead to dry, thin hair, as well as brittle, thin and weak nails.
Maintains Skin Appearance: Silica prevents the skin from becoming flabby and restores the natural glow of the skin. It helps in brightening the eyes as well. It also prevents several serious skin problems.
Prevents Brittle Nails: Silica plays a very significant role in the maintenance of nail health. Silica helps in improving the quality of nails and protecting them against several nail infections so your fingers remain attractive and strong.
What is MSM?
A naturally occurring form of sulphur, provides the necessary sulphur for keratin and collagen and increases the nail growth.Collagen and keratin and both critical for the production of healthy hair and nails. MSM is a bonafide "beauty mineral" that provides the sulfur needed to produce collagen and keratin. It's also highly noted to contribute to exceptional strength and thickness of the hair and nails, which can be noticed in just a couple weeks of consistent use.
Research shows that patients taking MSM showed 50% increased nail length, thickness and growth compared with placebo, and 100% of the subjects showed increased hair growth compared with placebo. In addition, 30% of the subjects taking MSM showed improvement in hair brilliance
Vitamin C - helps the production of collagen, boosts the immune system and helps the body fight free radicals and has antioxidant properties.
Marine Chondroitin - naturally occurring in our bodies, chondroitin gives the flexibility, strength and elasticity to the nails. NailCareXL capsules contain marine chondroitin, derived from fish (as opposed to cows or pigs).
Marine Collagen - collagen is an important protein, involved in creating healthy and strong nails, hair, muscle, tendons and keeping the skin smooth. The collagen production in our bodies is reduced as we age, leading to duller hair, brittle nails and aging skin. It works by replicating the natural collagen in your body, replacing what is lost with aging.
Supplement facts
Serving size: 1 capsule, Servings per container: 60
| | |
| --- | --- |
| Amount per serving | Mg./Caps. |
| Silica | 100mg |
| MSM | 100mg |
| Vitamin C (Ascorbic Acid) | 80mg |
| Marine Chondroitin 90% | 50mg |
| Marine Collagen | 50mg |
Other ingrediences: Magnesium Stearate (veg.source)
Directions:
As a dietary supplement take 1 capsules per day with water.
Warning: Keep out of reach of children. If you are pregnant, nursing or have a medical condition, consult your doctor before taking this product. Do not exceed recommended serving size. Discontinue use and consult doctor, if any adverse reaction occur. Store in dry place. Food supplements are not intended to diagnose, treat, cure or prevent any disease. Food supplements must not be used as a substitute for varied and balanced diet.