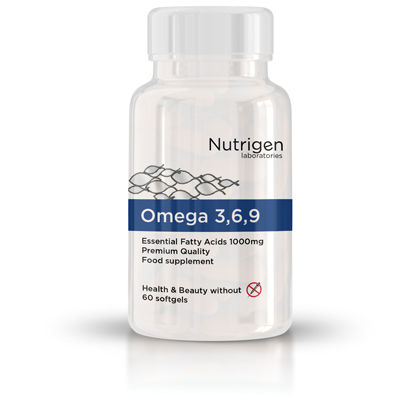 Why Use Omega 3,6,9 pills?
The essential fatty acids in Omega 3•6•9 have several important functions. They are a necessary component of cell walls and cellular membranes throughout the body, they help in energy production and they help regulate the breakdown of cholesterol and triglycerides. Omega 3•6•9 is a very important nutritional supplement because it is a balanced combination of nature's best source of omega 3, 6, and 9 fatty acids.
KEY BENEFITS
Support cardiovascular health
Supports healthy immune function
Helps treat allergies, asthma and various skin disorders
Supports healthy hair, skin and nails
Reduces blood pressure, relaxes blood vessels and lowers cholesterol
Supports healthy joint function
What is Omega 3•6•9?
The Omega 3, 6 and 9 groups of fatty acids all contain essential fatty acids necessary for good health. Studies have shown diets rich in fatty acids support heart health by promoting proper triglyceride and cholesterol levels.
Flax Seed Oil: Flaxseed oil (also known as Linseed Oil) is one of the best vegetarian sources of essential fatty acids. It contains approximately 50-60% of the omega-3 essential fatty acid, known as linolenic acid or alpha-linolenic acid, and roughly 18-20% of the omega-6 essential fatty acid known as linoleic acid. Flaxseed oil is nature's richest source of linolenic acid, which is frequently deficient in diets. Flax seed oil is also rich in the healthful omega-9 oleic acid.
Fish Oil: By far, the best type of omega-3 fats are those found in fish. The omega-3 in fish is high in two fatty acids crucial to human health, DHA and EPA. These two fatty acids are pivotal in preventing many diseases. The human brain also relies heavily on DHA - low DHA levels have been linked to depression, schizophrenia, memory loss, and a higher risk of developing Alzheimer's Disease. Routine consumption of fish oil, is highly encouraged as a key ingredient in improving your health. Fish oil contains the highest levels of the best omega-3 fats - those with the EPA and DHA fatty acids.
What does it do?
Cholesterol: In animal studies and small human studies, flaxseed produced identifiable reductions in low-density lipoproteins, the "bad" type of cholesterol. The results of another animal study using flaxseed oil indicated a small decrease in blood pressure.
Inflammation: Omega-3 fatty acids appear to limit the inflammatory reaction associated with these conditions. In cases of lupus, flaxseed oil not only reduces inflammation in the joints, kidneys and skin, but also lowers cholesterol levels that may be elevated by the disease. Taking flaxseed oil for gout may lessen the often sudden and severe joint pain or swelling that is a symptom of this condition.
Immune System: The omega-3 fatty acids in Flax Seed Oil can boost your body's ability to defend itself against foreign substances.
Cautions:
If you are pregnant or lactating please consult your health care practitioner prior to using Omega 3•6•9 .
There is no known toxicity associated with Omega 3•6•9.
Should not be exposed to extreme heat as rancidity may occur.
Omega 3•6•9 should not be used two days before or after any type of surgery.
Supplement facts
Serving size: 1 capsule, Servings per container: 60
| | |
| --- | --- |
| Amount per serving | Mg./Caps. |
| Fish Oil | 400mg |
| Flaxseed Oil | 300mg |
| Vitamin E | 10mg |
| Omega 3 Fatty acid | 270mg |
|     A-Linoleic Acid (ALA) | 150mg |
|     Eicosapentaenoic Acid (EPA) | 72mg |
|     Docosapentenoic Acid (DHA) | 48mg |
| Omega 6 Fatty Acid (Linoleic) | 200~245mg |
| Omega 9 Fatty Acid (Oleic) | 100~126mg |
Other ingrediences: Gelatin, Glycerine, Purified Water
Directions:

As a dietary supplement take 1 capsule per day with water.
Allergen information: This product contains fish ingredients
Warning: Keep out of reach of children. If you are pregnant, nursing or have a medical condition, consult your doctor before taking this product. Do not exceed recommended serving size. Discontinue use and consult doctor, if any adverse reaction occur. Store in dry place. Food supplements are not intended to diagnose, treat, cure or prevent any disease. Food supplements must not be used as a substitute for varied and balanced diet.