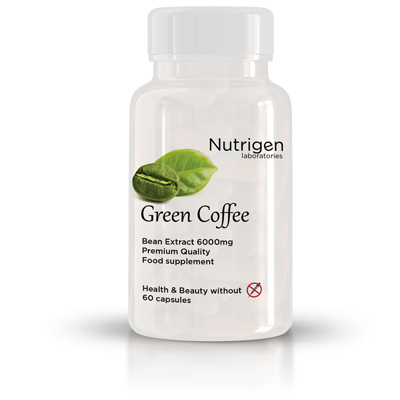 Why Use Green Coffee Beans Extract?
Green coffee extract contains unroasted green coffee beans, comprising 50.2% of the chlorogenic acid, caffeic acid, and other natural active substances. These combined ingredients are clinically proven to support healthy blood pressure, help burn fat and maintain healthy blood sugar levels. Extract contains only small amounts of caffeine, it is rich in polyphenols and antioxidants. Green coffee promotes cardiovascular function, fights signs of aging and helps to better manage weight.
Green coffee extract is obtained from only the purest and highest quality green coffee beans. The extract is standardized to 50% polyphenols with 50.2% of the contents of chlorogenic acid, which helps to effective weight loss and improved cardiovascular health.
KEY BENEFITS
Burns fat and activates metabolism
Maintains healthy blood pressure
Supports cardiovascular health
Fights against free radicals with help from antioxidants
Balances the blood sugar
How does Green Coffee work?
A key component of green coffee is chlorogenic acid. It is a safe and effective plant extract that helps to achieve lower fat while increasing the natural beauty inside and out. It was found that it prevents oxidative damage to the body. Chlorogenic acid is linked to the lower density lipoproteins (LDL-cholesterol) and also promotes a healthy blood pressure and homocysteine. Chlorogenic acid also protects the heart by means of natural antioxidants. Clinical research indicates that chlorogenic acid contained in the green coffee is the driving force for superior weight loss!
Chlorogenic acid works in three phases:
First Stage: chlorogenic acids inhibit the absorption of glucose (sugar) in the small intestine, which limits the amount of glucose absorbed.
Second Stage: when blood sugar levels are low, chlorogenic acids inhibit the release of more sugar into the blood stream from the liver.
Third Stage: lastly, the body naturally burns the energy stored in fat cells as fuel.
Other advantages of chlorogenic acid in green coffee:
Maintains a balance of blood sugar after meals
Supports glucose tolerance
Promotes healthy blood lipids
Absorbs glucose from the intestines
Supports mobilization of fatty acids for oxidation
Promotes healthy body fat and weight loss
Supplement facts
Serving size: 2 capsule, Servings per container: 30
| | |
| --- | --- |
| Amount per serving | Mg./Caps. |
| Organic Green Coffee Bean Extract (40:1) 150mg | 6000mg |
Other ingrediences: Microcrystalline Cellulose, Magnesium Stearate
1 capsule contains 6000mg (150mg 40: 1) extract of green arabica coffee beans. The extract is standardized to 50% polyphenols content of 50.2% chlorogenic acid content.
Directions:

As a dietary supplement take 2 capsules per day with water. For best results take one in the morning and one in the evening after a meal.
Warning: Keep out of reach of children. If you are pregnant, nursing or have a medical condition, consult your doctor before taking this product. Do not exceed recommended serving size. Discontinue use and consult doctor, if any adverse reaction occur. Store in dry place. Food supplements are not intended to diagnose, treat, cure or prevent any disease. Food supplements must not be used as a substitute for varied and balanced diet.