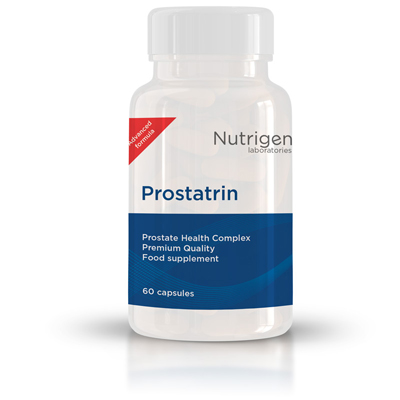 Why Use Prostate Pills Prostatrin?
Prostatrin prostate pills are the most comprehensive source of vitamins and minerals in the market for non-prescription and natural medicines used the prostate problems. This product maintains a healthy prostate and is designed to facilitate problems with the urinary tract in men. It is essential for men to receive enough nutrients to maintain a healthy prostate. These freely available product is simply a complete and pure natural source of all the necessary ingredients for healthy male prostate.
KEY BENEFITS
promotes and maintains a healthy prostate
helps reducing the symptoms of an enlarged prostate (frequent urination, painful urination, not empty bladder feeling)
alleviates problems with the urinary system
prevents prostate cancer
The prostate is among all organs the most affected in the aging male body. Prostate problems are most often divided into several basic areas:
Prostatitis: is a common disease in men of any age. It is the inflammation of the prostate gland itself. Most often it is caused by bacteria that infect the prostate from another part of the body. The cause may also be a hormonal changes in the body.
Enlarged prostate is a disease of the prostate where the prostate gland is enlarged. Problems that may cause narrowing of the urethra and include problems urinating, as well as the feeling of not drained the bladder. May adversely affect the kidneys and bladder.
Prostate cancer is the uncontrolled proliferation of cells of the prostate. The cause is not known exactly - doctors believe that it is a summary of hormonal, genetic, environmental and dietary factors. Contemporary medicine already knows and explores a number of substances that act preventively against the occurrence of the disease and can help reduce the proliferation of prostate cells.
Prostatrin prostate pills are designed as prevention but also alleviating already existing problems with the prostate.
› What are the key ingredients in Prostatrin?
These pills contain only pure natural ingredients and extracts in a favorable combination for maintaining a healthy prostate. Tablets contain the prostate zinc, magnesium, vitamin D, and B and a number of other natural vitamins, minerals, and ingredients. The thoroughly mixed combination comprising of an amount of the plant extracts, which are known to the physician of beneficial effects on the health of the prostate and the urinary system.
Magnesium - an extremely important mineral for prostate health and muscle. In addition to prostate also it helps with heart problems, hypertension and many others. Magnesium deficiency leads to frequent muscle contractions, which could cause starting problems with the prostate - frequent urge to urinate.
Zinc - the single most minerals for proper function of the prostate gland. A healthy prostate contains up to seven times more zinc than enlarged one, inflamed prostate or prostate cancer. Zinc is also excellent prevention against prostate cancer by preventing the conversion of testosterone to estrogen, which in the male body stimulates cancer cells.
Fenugreek - rich in selenium, which according to research positively affects the formation of cancerous cells in the prostate. It contains phytochemicals that increase testosterone levels, lower blood glucose and cholesterol levels.
Maca extract - an extract often used in medicines for male potency and prostate problems. According to the research, extract from red Maca has beneficial effects on alleviating symptoms of an enlarged prostate. It also acts to balance the hormone levels in male body.
Watercress - studies have shown that treatment with the extract can prevent damage to the DNA that is the cause of multiplying tumor cells.
Asparagus - a major source of glutathione - an antioxidant, reducing the risk of inflammation, and prostate cancer. Asparagus is also a great source of beta-carotene and vitamin C.
Ginko biloba - positively affects the health of prostate cells and prevents DNA damage.
Garlic extract - according to research, garlic acts favorable to the suppression of symptoms of an enlarged prostate - frequent urination. Treatment with garlic impact the expansion of urine flow.
Broccoli sprouts - contain phytonutrients that impact positively the health of the prostate and have anticancer effects.
Oat straw - in combination with saw palmetto is frequently used to treat the symptoms of an enlarged prostate.
Ginseng - beneficial effect on prostate health and slows down the expansion of cancer cells.
Vitamin D3 - according to research, it decreases the inflammation of the prostate and the symptoms associated with an enlarged prostate.
Black pepper extract - contains a substance called piperine, which is proving to be a promising drug against prostate inflammation and prevent the spread of cancer cells.
Vitamin B3 - contributes to the overall health of the body and also improves prostate health.
Supplement facts
Serving size: 2 capsules, Servings per container: 30
| | |
| --- | --- |
| Amount per serving | Mg./Caps. |
| Magnesium Oxide 627mg (magnesium) | 250 |
| L-Arginine HCl | 166 |
| Fanugreek (6:1) 50%saponins 125mg | 500 |
| Maca Extract (10:1) 60mg | 400 |
| Zinc Citrate 50mg | 10 |
| Watercress Herb (4:1) 37.5mg | 100 |
| Asparagus Root (4:1) 37.5mg | 100 |
| Ginko Biloba (50:1) 37.5mg | 1250 |
| Garlic Extract (100:1) 30mg | 2000 |
| Broccoli Sprout (10:1) 30mg | 200 |
| Oat Straw (10:1) 30mg | 200 |
| Korean Ginseng (50:1) 2% ginsenosides 30mg | 1000 |
| Cholecalciferol 100,000ui/g 20mg (D3 Vitamin) | 1333IU |
| Black Pepper Extract | 15 |
| Piridoxine HCL 12.75mg (Vitamin B6) | 6.66 |
Other ingrediences: Microcrystalline Cellulose, Titanium Dioxide, Yellow Iron Oxide, Indigotine, Magnesium Stearate, Silica
Directions:

As a dietary supplement take 2 capsules per day with water.
Warning: Keep out of reach of children. If you have a medical condition, consult your doctor before taking this product. Do not exceed recommended serving size. Discontinue use and consult doctor, if any adverse reaction occur. Store in dry place. Food supplements are not intended to diagnose, treat, cure or prevent any disease. Food supplements must not be used as a substitute for varied and balanced diet.