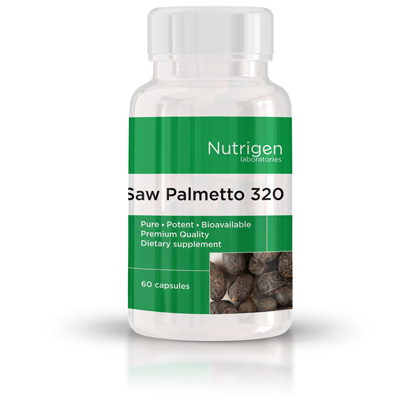 Why Use Saw Palmetto Pills 320mg?
Saw Palmetto extract is the world's most used and 100% natural medicine to treat prostate problems in men. It is also very often used to treat hair loss problems in men and women.
KEY BENEFITS
Treats urination problems
Treats benign prostate enlargement
Improves male sexual function
Excellent for the treatment of hair loss
Great for overall improvement of health.
What is Saw Pametto?
Saw Palmetto is obtained from the berries of the saw palmetto dwarf palm tree native to the Southeastern U.S. The berries contain a mixture of fatty acids which exert a favorable effect on the prostate gland. The American Indians used saw palmetto berries as a nutritional tonic for the genitourinary tract. In contenporary medicine, saw palmetto is often used to treat hereditary hair loss problems as well.
Saw palmetto and Prostate
Testosterone can break down into dihydrotestosterone (DHT.) The DHT can stimulate the prostate cells & contribute to an enlarged prostate, benign prostatic hyperplasia (BPH.)
Saw palmetto inhibits the enzyme which converts testosterone to DHT, thereby decreasing DHT levels. It inhibits the binding of DHT to its receptor site & blocks the uptake of DHT.
Numerous clinical studies have demonstrated the usefulnes of the extract of saw palmetto berries on the symptoms of BPH.
Saw palmetto and Hair loss
Saw palmetto is a natural blocker of 5-alpha reductase. 5-alpha reductase causes the transformation of the male sex hormone - testosterone to the hormone dihydrotestosterone, which negatively affects the hair follicles.The result is that the follicles become smaller and produce ever smaller and thinner hair.
Regular consumption of the extract of saw palmetto causes stabilization of hormone levels, which has also a positive impact on the amount of generated sebum. Therefore it helps reduce sebum production. Sebum on the scalp adversely affects the hair itself as it contains large amounts of dihydrotestosterone.
Saw palmetto is beneficial for:
Ageing
Poor Appetite
Frigidity
Hair Loss
Impotence
Infertility
Prostate Cancer
Prostatitis/Enlarged Prostate
Supplement facts
Serving size: 1 capsule, Servings per container: 60
| | |
| --- | --- |
| Amount per serving | Mg./Caps. |
| Saw palmetto whole fruit | 320mg |
Other ingrediences: Silicon Dioxide, Magnesium Stearate.
Directions:

As a dietary supplement take 1 capsule per day with water.
Warning: Keep out of reach of children. If you are pregnant, nursing or have a medical condition, consult your doctor before taking this product. Do not exceed recommended serving size. Discontinue use and consult doctor, if any adverse reaction occur. Store in dry place. Food supplements are not intended to diagnose, treat, cure or prevent any disease. Food supplements must not be used as a substitute for varied and balanced diet.