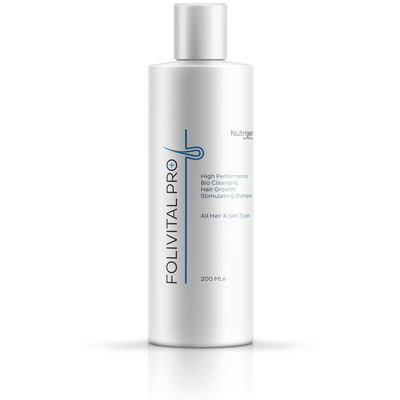 Why Use FOLIVITAL PRO Hair Loss Shampoo?
FOLIVITAL PRO is one of a kind, powerful yet gentle hair loss shampoo for men and women. Multi-level way of action ensures deep cleaning and energizing the scalp while powerful ingredients are infused to help hair follicles. Synergistic blend of DHT blockers, anti-oxidants, minerals, proteins and therapeutic botanicals restores balance, optimizes scalp health and enhances the vitality and thickness of your hair.
» KEY BENEFITS
Formulated with natural proven DHT Blockers
Contains vasodilators (help with scalp micro-circulation)
Cleanses skin and hair without the harsh effects of sulfates that strip essential oils.
Contains Anti-Oxidants (strengthen the scalp's natural protective barrier)
Regulates sebum secretion
Safe for color and chemically treated hair
Sulfate-free, Paraben Free, & Gluten Free
FOLIVITAL PRO hair loss shampoo fights hair loss on multiple levels:
Deep cleaning
When treating hair loss, we must make sure we are not damaging the scalp with harsh chemicals. Then we should start addressing the follicles with compounds known to be therapeutic. FOLIVITAL PRO should be the shampoo component of anyone's regime to stop hair thinning, increase scalp vitality and health.
Unlike common shampoos, FOLIVITAL PRO hair loss shampoo contains no sodium laureth sulfate, sodium lauryl sulfate, or other cheap detergents that inflame scalp tissue. FOLIVITAL PRO Pro hair loss shampoo deeply cleans the scalp, removing excess sebum, which often contains high levels of DHT known to cause hair loss.
Moreover, ingredients like zinc, Arcticum majus root extract, Saw Palmetto and Nettle extract help to regulate sebaceous glands activity, resulting in a more normalized sebum production and less skin inflammation.
DHT blocking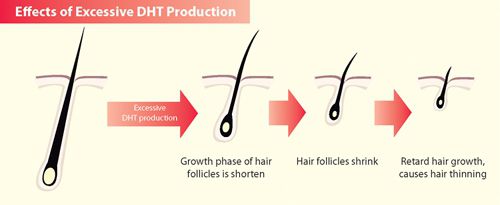 DHT forms from conversion of conversion of 5-alpha reductase enzymes to DHT. If left unchecked, DHT accumulation spreads and is a primary cause of many hair loss symptoms such as receding hairline, male pattern balding, and crown balding.
DHT restricts blood flow to the scalp and follicles. Accumulated in the follicle pores, DHT slows or stops nutrients and vitamins needed for new hair growth and reduces the Anagen hair growth phase, leading to loss and thinning. Reduced blood flow constricts the ability of the root to provide minerals and nutrition
Many ingredients can slow or inhibit this conversion. FOLIVITAL PRO Pro hair loss shampoo contains well known natural 5-alpha-reductase (DHT blocking) ingredients - Saw Palmetto and Nettle extract. Our shampoo also contains caffeine, which penetrates the hair roots, thereby protecting the hair from negative testosterone impacts and from premature hair loss.
Revitalizing scalp tissue and follicles
FOLIVITAL PRO Pro hair loss shampoo deploys super rich combination of nutrients, vitamins and minerals for best possible scalp condition and hair growth. These ingredients increase scalp health, boost hydration and lower inflammation.
Multiple ingredients stimulate blood flow and scalp micro-circulation ensuring the best flow of nutrients to hair follicles.
In addition, powerful amino – acid combination protects developing hair cells and maintains healthy hair cycle.
› What are the key ingredients in FOLIVITAL PRO hair loss shampoo?
Caffeine
Biotin
Zinc
Saw Palmetto extract
Nettle extract
Panax ginseng root extract
Arctium majus root extract
Olive leaf, Aloe vera extract
Amino-acids (Arginine, Citrulline, Ornithine,Tyrosine)
Panthenol
Niacinamide
Caffeine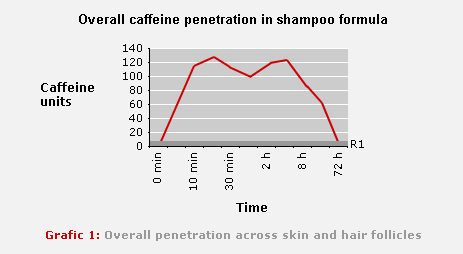 Clinical studies show that topical application of caffeine, well-known for its effect on the central nervous system, also boosts human hair growth. Based on studies, caffeine countered the testosterone effect and also led to significant stimulation of the follicles. Average hair growth was increased by 46 percent and life cycle by 37 percent.
Biotin
Biotin has proven to be effective at protecting the hair follicle against both physical and psychological stress . Biotin deficiency is one of the most nutritional factors influencing hair thinning and providing this supplement directly to the hair follicle can produce rapid results in hair recovery.
Zinc
Reduces scalp irritation.
Saw Palmetto extract
Androgenic Alopecia is the most common cause of hair loss in both men and women. The cause is in increased amount of Dihydrotestosterone (DHT) in the scalp tissue and hair follicles. FOLIVITAL PRO Pro hair loss shampoo acts to clean DHT from scalp tissue, and by using natural DHT blockers, actively inhibits DHT creation on scalp.
Nettle extract
Using stinging nettle is one of the oldest treatments for combating hair loss. Nettle contains great amount of phytonutrients effecting scalp condition and improving scalp circulation.
Panax ginseng root extract
Ginseng root extract induces an earlier telogen to anagen conversion. With the hair follicle being dormant for a much shorter period of time, the risk of the hair follicle not recovering from the Catagen (regression) phase is greatly minimized. Further, the application of Ginseng Root Extract on the scalp is shown to cause an increased depth and size of the hair follicle as well as a heightened level of growth factor gene of VEGF (vascular endothelial growth factor) in the hair follicle. For these reasons, and others, ginseng root extract is known for eliminating thinning in hair and produce thicker, healthier, more dense hair.
Ginseng Root Extract also provides hair with energy and nourishment. It increases blood flow and stimulates microcirculation. It nourishes hair and scalp and acts effectively against dandruff. It provides hair with elasticity and silkiness.
Arcticum majus root extract
Improves blood circulation, decelerates hair loss, strengthens hair follicles and encourages healthy hair growth. It also regulates sebaceous glands activity and has a normalizing and soothing effect on the scalp. Since the burdock oil is rich in phytosterols and essential fatty acids, it is also improves hair strength, shine, and body by helping maintain a healthy scalp and promote hair growth. It combines an immediate relieving effect with nutritional support for normal functions of the sebaceous glands and hair follicles
Olive leaf, Aloe Vera extract
An extra nutrient boost to scalp and hair follicles. Moreover these extracts have positive effect on hair: great for moisturizing and strengthening hair shafts. Hair will become shinier and more manageable.
Arginine
Arginine is an amino acid, essential to human life as building blocks of protein. What makes arginine a uniquely effective supplement for hair growth is its power to increase the level of nitric oxide in the hair follicle as the hair papilla's mitotic (cell division) process coverts arginine into nitric oxide. Nitric oxide increases blood flow to the hair follicle and relaxes blood vessels which plays a role in stimulating hair growth. Arginine is an extraordinarily powerful ingredient for creating a healthy scalp that facilitates hair growth, but also facilitates protein synthesizes in the hair root. Just as arginine is an important supplement for treating pre-term infants and recovering burn victims, it also aids in the building of human hair protein.
Citrulline
Citrulline is a crystalline amino acid found in all hair follicles. Citrulline is critical in generating strong hair protein and the levels of Citrulline have been shown to be affected by human stress, heat treatments, and chemical treatments (especially relaxers and perms). Citrulline has proven to be highly effective at protecting the developing hair cells during the mitotic (cell division) process from the effects of adverse medications. When there is a lower level of Citrulline in the hair follicle, the resulting hair that grows tends to be much thinner, weaker, and contains much less pigment. FOLIVITAL PRO Pro hair loss shampoo contains a healthy concentration of citrulline which ensure growth of healthy hair.
Ornithine
Ornithine is naturally occurring amino acid enzyme that is present in the hair follicle that regulates the transition of the hair follicle from the anagen phase to the telogen phase. When Ornithine is no longer present in the anagen (growth) phase, the hair follicle is signaled to begin to move to the catagen (regression) phase. It is recommended to use FOLIVITAL PRO Pro hair loss shampoo on daily basis to ensure hair follicles stay in anagen phase for longer time.
Tyrosine
This is another non-essential amino acid that the body naturally produces. This amino acid creates melanin, which is the pigment that colors our hair and skin.
Tyrosine is also known to contribute to reduction in stress hormone levels in the body. Since stress is a strong factor in hair loss, tyrosine can slow alopecia too by reducing stress.
Panthenol
Research has shown that panthenol, a natural hydrator, penetrates into the lower skin layers where it is absorbed by skin cells (including hair cells) and becomes pantothenic acid (Vitamin B5). It has a unique way of penetrating deep into the hairs cortex; when it is left on the hair for five minutes or more, it swells the hair shaft helping to give the hair more body. It naturally creates a film of moisture on the hair shaft, giving the hair added protection. Panthenol's ability to regulate moisture content whilst increasing resistance to damage and brittleness, makes it a wonderful moisturising ingredient.
Niacinamide
Niacinamide and Niacin enhance the appearance and feel of hair, by increasing body, suppleness, or sheen, or by improving the texture of hair that has been damaged physically or by chemical treatment. Niacinamide and Niacin enhance the appearance of dry or damaged skin by reducing flaking and restoring suppleness.
Niacinamide increases free fatty acid ceramide levels in the skin, stimulates micro-circulation in the dermis, and prevents the skin from losing water. It also increases protein synthesis (e.g. keratin), raises intracellular NADP levels, and speeds up the differentiation of keratinocytes.
Hydrolyzed soy protein
Hydrolyzed soy protein improves manageability, body, gloss and texture of hair. It forms a film that coats and conditions damaged hair. The film increases moisture retention, making hair more healthy-looking.
Strengthens and mends hair fiber. Increases the ability for hair to hold moisture. Adds shine and smoothes hair.
Product facts
200ml (2 months treatment)
Fresh scent, cooling effect
Directions:
Recommended usage: Apply to skin 1x daily. Gently massage to skin, leave it for 2 minutes, then rinse.
Caution: Exclusively for external use. Keep out of reach of children. If you notice skin irritation, red skin or discomfort on the skin after a few days of application, stop application and consult a dermatologist.
Key ingredients
Caffeine
Biotin
Zinc
Saw Palmetto extract
Nettle extract
Panax ginseng root extract
Arctium majus root extract
Olive leaf, Aloe vera extract
Amino-acids (Arginine, Citrulline, Ornithine,Tyrosine)
Panthenol
Niacinamide
Full ingredients list
Aqua [Water], Cocamidopropyl betaine, Sodium lauroyl methyl isethionate, Lauryl glucoside, Sodium methyl oleoyl taurate, Coco-glucoside, Menthyl lactate, Menthol, PPG-26-buteth-26, Glycerin, Panthenol, Serenoa serrulata fruit extract, Urtica dioica (Nettle) extract, Panax ginseng root extract, Olea europaea (Olive) leaf extract, Aloe barbadensis leaf extract, Caffeine, Acetyl tyrosine, Arctium majus root extract, Arginine, Biotin, Calcium pantothenate, Citrulline, Dimethicone copolyol, Glucosamine HCl, Hydrolyzed soy protein, Niacinamide, Ornithine HCl, Polyquaternium-11, Zinc gluconate,Parfum [Fragrance], PEG-40 hydrogenated castor oil, Propylene glycol, Citric acid, Magnesium nitrate, Methylchloroisothiazolinone, Magnesium chloride, Methylisothiazolinone, d-Limonene.
Other Websites: