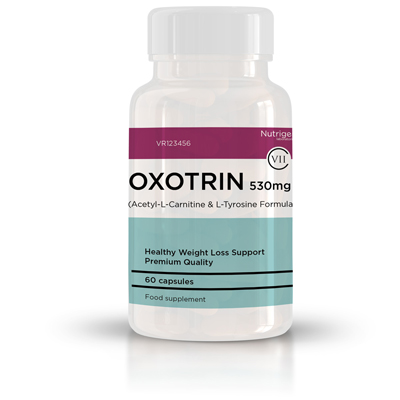 Why Use Weight Loss Pills Oxotrin?
Pills for rapid weight loss Oxotrin contains proprietary thermogenic component which greatly speeds up the metabolism and is suitable for healthy weight loss. These pills speed up weight loss and fat loss process.
KEY BENEFITS
speeds up metabolism
suppresses appetite
accelerates energy consumption
effective and safe remedy for healthy weight loss
no YO-YO effect
The unique composition is extremely effective for accelerating the metabolism, consequent rapid weight loss. Oxotrin pills can additionally suppress appetite. Oxotrin is a natural and safe remedy for fast and healthy weight loss.
Oxotrin has several components that contribute to weight reduction, better and faster functioning of the metabolism, and in combination with a healthy diet and adequate flow significantly speed up weight loss.
The individual components operate together thermogenic - thermogenic activity, according to scientific studies, speeds up metabolism and promotes healthy weight loss. For a reasonable diet and movement even accelerate fat burning and weight loss up to three times. Thermogenic effects have been confirmed in several clinical studies. Oxotrin accelerates fat loss while preserving muscle structure unchanged.
› What are the key ingredients in Oxotrin?
Glucomannan 90% - fiber extracted from the roots of Konjac plant (elephant yam). It is often used in medicines for weight loss, as it slows down the absorption of sugars and fats from the gastrointestinal tract. It helps maintaining helthy levels of blood sugar and cholesterol. After use, the stomach feels full and induces satiety, thus avoiding frequent consumption, leading to weight loss.
Caffeine - has a stimulating effect, speeds up metabolism and helps to burn fat
Acetyl L-carnitine - an amino acid that plays an important role in weight loss. It allows you to convert more fat into energy, thus avoiding store more fat and thus promotes weight loss. Treatment with this supplementl also helps to reduce appetite.
L-Tyrosine - another amino acid that suppresses appetite and improves thyroid function. Scientists believe that it is especially effective in weight loss caused by stress.
The raspberry extract - it is used in so-called. "Fat burner" because, according to some research works as an accelerator of metabolism. The test results confirm that the substance accelerates the breakdown of fats and helps the body release more hormone adiponectin, which scientists believe it plays an important role in maintaining proper metabolism and blood sugar in the body.
Green coffee - A key component of green coffee is chlorogenic acid. It is a safe and effective plant extract that helps to achieve a lower fat content in the body. It maintains a balance of blood sugar after a meal. It supports healthy glucose tolerance and lipid concentration. It also absorbs glucose from the intestines.
African mango - Studies have shown significant improvement in the treatment of diabetes and obesity. It helps to increase thermogenesis - burning fat faster.
Capsicium - for their beneficial effects, the extract of peppers often used ingredient for weight loss pills. Among the most prominent effects are thermogenic effect. It increases body temperature and metabolism, allowing the body to burn more fat.
Bladderwrack seaweed extract - supports the activity of the thyroid gland. Malfunctioning thyroid gland can cause obesity, because among other things, it controls the proper functioning of the metabolism, energy production and body temperature. Kelp contains iodine, which is necessary for the correct functioning of the thyroid gland.
Chromium picolinate - according to research this mineral helps maintain a balanced blood sugar levels, which is important in any healthy diet. Reduces the amount of fat in the body and reduces the craving for high-calorie foods.
Supplement facts
Serving size: 2 capsules, Servings per container: 30
Amount per serving
Mg./Caps.
Konjac Fibre (Glucomannan 90%)
100
Caffeine
84
Acetyl-L-Carnitine
50
L-Tyrosine
50
Raspberry Fruit Extract 10:1
(20%ethanol. 80%water ) 50mg
500
Green Coffee Bean 50% chlorogenic acid 40:1 25mg
1000
African Mango 10:1 25mg
250
Capsicum 8:1 12,5mg
100
Bladderwrack Exctact 1% Iodine 5:1 10mg
50
Chromium Picolinate (12,5%chromium) 0,54mg
68mcg
Other ingrediences: Microcrystalline Cellulose, Titanium Dioxide, Magnesium Stearate
Directions:

As a dietary supplement take 2 capsule per day with water. Best in the morning and before 5pm.
Warning: Keep out of reach of children. If you are pregnant, nursing or have a medical condition, consult your doctor before taking this product. Do not exceed recommended serving size. Discontinue use and consult doctor, if any adverse reaction occur. Store in dry place. Food supplements are not intended to diagnose, treat, cure or prevent any disease. Food supplements must not be used as a substitute for varied and balanced diet. Not intended for people under 18 years of age.
Other Websites:
Slovakia: www.oxotrin.sk